For older children, why not encourage them to use the events of the festive as inspiration for some Christmas creative writing? Or challenge their crafting skills with a range of paper craft activities? Alternatively, they could always knit their own polar pug…
Oxford University Press is not responsible for the content of external websites.
Christmas can be a great time to spark ideas for writing. Read these top Christmas writing tips from Christopher Edge.
Follow these instructions from Tom McLaughlin, author of The Accidental Father Christmas , to draw your very own Father Christmas – from his hat to his shiny black boots!
Making woven heart baskets for Christmas is a tradition in Scandinavian countries. Learn how to make these lovely baskets to fill with sweets or hang on the Christmas tree, with firstpalette.com.
Help your child make their own little knitted Polar pug from the hilarious and highly-illustrated book, Pugs of the Frozen North from Philip Reeve and Sarah McIntyre.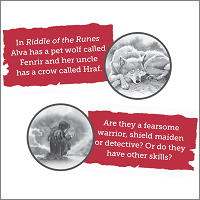 The Vikings were mischievous folk, who even had a god of mischief and mayhem called Loki – a cunning trickster and shapeshifter. Create your own mischief maker with this activity from Riddle of the Runes .
This is the classic game 'I Spy' based on any Christmassy things, seen in or outside the car. It also is a great activity for practising those speech sounds. Someone says 'I spy with my little eye, something beginning with… a, b, c…'. Then everyone else has to guess what it might be. For example, 'S might be for 'star'. You may need to give each other clues.