English: Age 6–7 (Year 2)
In Year 2, your child will grow in confidence as they develop their knowledge of grammar and punctuation, as well as their speaking, reading, and writing skills.
Your child will become more familiar with spelling words using their phonics skills, and will be able to recognise and spell many common and tricky words such as because. They will be encouraged to explore their own ideas through creative writing and poetry, and will be taught how to use apostrophes correctly. Much of their learning will come from reading, talking, and listening.
There are a variety of simple things you can do at home to support your child's developing English skills.
What your child will learn
Follow the links below to find an overview of what is taught in Year 2, with information, support, and activities:
How to help at home
There are plenty of simple ways you can help your child with English in Year 2. Here are a few of our top ideas.
1. Practise phonics
Phonics is the main way your child will learn to read, write, and spell at the start of primary school. You can help your child to read using phonics by encouraging them to break any word they are unsure of into individual sounds, and then to blend those sounds together to make the word. For example, they could split and sound out the letters 'f', 'r', 'o', and 'g' to make 'frog'. This is called blending.
Your can use a similar phonics strategy for learning how to spell. Your child can think of how a word sounds, and then write down the letters they think would represent those sounds. This is called segmenting.
Take a look at our phonics page to find out more, or watch our video for an introduction to phonics:
Watch this fun animation to find out about phonics and understand the key aspects of learning to read using phonics.
2. Read with your child
While your child will learn about how language works from speaking and listening, the type of language we use in writing is often different from that in speech. Reading regularly to your child, especially books that they cannot yet read on their own yet, is a great way of improving their understanding of language.
Talking about books is also a really useful habit to get into. Talk about the characters and what happens in a story, or what specific bit of information was most useful, but also get them to give you their opinions too. Let them tell you if (and why) they don't like a book. Part of growing as a reader is learning that it's okay not to like some books or to prefer reading on-screen sometimes!
For books to read with your child, take a look at our free eBook library.
3. Encourage your child to read
Making time to hear your child read isn't just good for their reading. Seeing words in print helps them to understand the words, to spell them, and to see how grammar and punctuation are used to make meaning.
When your child is reading, occasionally talk about why the author has decided to include something and how they written it. For example:
'I wonder why the author has chosen to describe the castle as "gloomy"? I wonder what that tells us about what might happen there?'
4. Tell stories aloud
Giving your child the opportunity to tell stories orally is a great way to get them used to structuring their ideas and using adventurous language. If they're not sure where to start, see if they can retell a story that they already know well, like Little Red Riding Hood or Three Little Pigs.
If your child finds it useful to plan out their story first, try our free Story mountain to make a great plot with a beginning, middle, and end.
Activity: Story mountain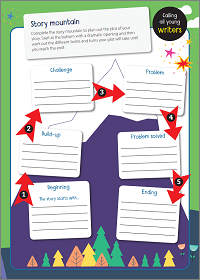 Complete the story mountain to plan your story with a beginning, middle, and end.
Video: How to develop storytelling skills
Suzy Ditchburn offers practical tips for improving storytelling confidence.
5. Spot letter patterns in words
Ask your child to point out words that look like they should rhyme but don't: home and come; do and no. Point out words that do rhyme even though they look different, too: come and sum; there, bear, hair. This will help with their writing, reading, and spelling.