English: Age 10–11 (Year 6)
Year 6 will be a formative and exciting year for your child. Now that they are at the top of the school, they will be preparing for both SATs and secondary school in earnest, and they will develop much more independence and resilience as the year goes by.
In English, your child will now be expected to understand how to use a full range of punctuation, to write with a wide variety of sentence structures, use powerful vocabulary, and to generally spell words accurately. They may well be fully independent readers, choosing their own books and non-fiction texts based on their own interests. The writing your child does at school will be increasingly confident and creative.
There are a variety of simple things you can do at home to support your child's developing English skills.
What your child will learn
Follow the links below to find an overview of what is taught in Year 6, with information, support, and activities:
How to help at home
There are plenty of simple ways you can help your child with English in Year 6. Here are a few of our top ideas.
1. Read a variety of books
Encourage your child to choose texts that show a wide variety of formats and layouts. Lots of children have favourite authors and genres, but it can be helpful to expand into new types of books every so often – and be sure not to neglect non-fiction texts, such as magazine articles, brochures, adverts, newspaper columns, signs, and notices.
Showing your child lots of kinds of texts will give them experience reading in a real-world context, and will also prepare them for national assessments where they are expected to engage with a wide variety of text types. Make sure you talk together about how the texts are presented – the writing may look different depending on what kind of text you are looking at.
Your child may now be reading more independently, but reading to your child can still be very useful, especially if the books you read are a bit above their current reading level. Take a look at our free eBook library for ideas for older readers.
2. Give your child opportunities to write
Writing at home can be a great way of practising writing, including using grammar and punctuation to create particular effects. Here are some ideas to encourage regular writing:
Create a story about a space adventurer with strange planetary systems to explore. Every week or month, your child could write about a new chapter about a different planet. Before long, the chapters will have built into a book they can be really proud of.
Write an A-to-Z. It could be based on anything your child is interested in – animals, space, dinosaurs, fairies, even their favourite TV programme. A page for each letter of the alphabet gives you 26 short pieces of writing spread over the year that build into one big project.
Produce a version of a book for a younger child. For example, they could write The Rhino Who Came to Tea or The Very Hungry Angler Fish. Books with a distinctive format such as The Day the Crayons Quit or The Last Polar Bears are perfect for this.
Write the book of a film or TV programme. If children have watched something they've really enjoyed, they could try and tell the same story in writing. Watching the story on screen can give them a useful frame to hang their own writing on.
While writing using a pen and pencil is useful practice, writing on the computer counts too. You might want to turn the spelling and grammar check off to help children to learn to confidently use their own knowledge. The grammar check can be wrong, too, so this can be confusing for children.
3. Find story inspiration
You can find fun story ideas anywhere! Why not raid your kitchen cupboards or hunt through the attic to find lost treasures? Anything from an old hat to a telescope will do the trick. What could the object be used for? Who might be looking for it? What secrets could it hold? Suggest different genres such as mystery or science fiction and discuss how the item might be used in this kind of story.
Real-world facts can also be a great source of inspiration. For example, did you know a jumping flea can accelerate faster than a space rocket taking off into orbit? What crazy story can your child make out of this fact? Newspapers and news websites can be great for finding these sorts of ideas.
For more storytelling ideas, download our free Story idea generator or our Character profile activity sheet.
Activity: Story idea generator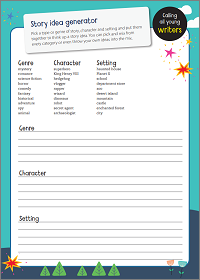 Mix together a genre, character, and setting to think up a story idea.
Activity: Character profile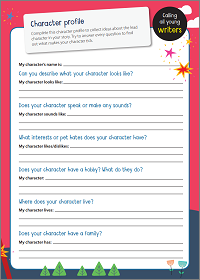 Come up with lots of interesting details about the lead character in your story.
4. Draw your ideas first
If your child isn't sure where to start with a story or even a piece of non-fiction, it can sometimes be helpful to sketch out their ideas first. For instance, can they draw a picture of a dastardly villain or a brave hero? How about a scary woodland or an enchanted castle?
Your child might also find it useful to draw maps or diagrams. What are all the different areas of their fantasy landscape called? How is the baddie's base organised?
Some children might enjoy taking this idea a step further and drawing their own comics. This is great practice – it stretches your child's creativity, gets them thinking about plot, character, and dialogue, and is a big confidence boost once they've finished and have an amazing story to look back on.